GenSmart review on 16 May 2018 by Rebecca Fishwick
At a Glance
Summary
The GenSmart app was straightforward and easy to use, and included plenty of content. The interwoven goals and life hacks provided an effective way for me to track my progress, and gave me manageable steps for achieving better health. Though it would have been nice to be able to opt out of certain goals or hacks that didn't suit me, for a free app it was very comprehensive, with a lot of thought put into making it simple and intuitive.
Full Review
GenSmart was created by Thomas Olivier, a nutrigenomics practitioner based in the UK. His coaching methods rely on the principles that all individuals are biologically disposed to be different, and that our natural state is one of good health and high energy.
The GenSmart app was designed to offer a step-by-step method to achieving better health through tailored, nutrient-rich dieting.
Product Expectations
Before downloading the GenSmart iOS app, I went to their website to find out more.
The site was sleek, bright and spacious. On the homepage, I read that my DNA could give valuable insights into my exercise responsiveness, dietary needs and more. By understanding my genes, I would be able to make better lifestyle choices according to my genetic makeup.
I saw that the app would interpret my genetic profile, set me personalised goals, and support me in reaching them. By using my DNA data combined with information about my diet and lifestyle, the app would identify the most important goals for me to work towards. I would be given a personalised task list, and the app would track my progress towards each goal.
Large graphics on the site showed sample pictures from the app, which looked straightforward, colourful and minimalist. There was a short film about the app, which was very short, and didn't offer much more information than could be found elsewhere on the site, though I did learn that I could chat to an online advisor within the app.
The "About" page told me more about GenSmart's creator Thomas Olivier, his book ('Cracking Your Health Code'), the GenSmart Academy (offering online training videos and workshops), and GenSmart Coaching (which was one-to-one genomics coaching).
There was also a "Help" page where I could submit a query, or read the help pages about syncing data from 23andMe, navigating the GenSmart app, understanding my genetics results, and so on. Clicking on "Syncing your genetic data", I found a handy video going through the process of linking a 23andMe account in the GenSmart app.
Before leaving the website, I took a look at the Privacy Policy. Here, I learned that the site used Google Analytics to create personal identifiers for advertising, and generate usage statistics.
As I anticipated, by linking my 23andMe account, I would be allowing GenSmart access to my genetic data. They would also be able to read my full name and email address. If I wished to close my GenSmart account, they would remove my details from their servers. I could revoke access to the GenSmart app through the 23andMe site.
There was also information about the cookies they used, device permissions for iPhone or iPad (including phone, reminders and storage permissions), and information about the user's rights to object to their data being used by the company in court proceedings. I could object to my data being used for marketing purposes without having to provide justification.
Ordering Experience
I headed to the App Store on my phone to download the GenSmart app, which was also available on iPad. Before I could sync my 23andMe data, I had to create an account. This required a username, email address and password. After entering these, I was sent a verification email.
Once I'd confirmed my email, I was sent an email going through the steps of linking my 23andMe account and using the app. Logging back into the GenSmart app, I received a push notifications request (which I accepted, since the point of the app seemed to be that it would bother me into improving my life).
I could then link my 23andMe account with GenSmart. This was done within the GenSmart app, and required me to enter my 23andMe login details (email and password). I then had to authorise 23andMe to share my data with GenSmart. Once I'd granted access, the two accounts were linked instantly.
The Results
Before my diet and lifestyle goals could be calculated, GenSmart wanted to know some more about me. There was a questionnaire of 11 questions, centred around health, nutrition, fitness and lifestyle.
It then analysed my genetic data and questionnaire answers, which took less than a minute. I was then able to view my results.
Results Section: Your Status
The first thing I saw was my status page. My status was currently listed as "Explorer", with my progress showing at 0 points. Here, I could view my latest goals and recommended recipes.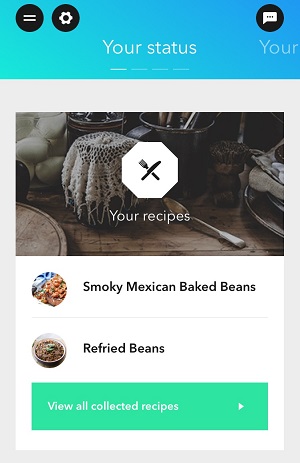 Clicking on "Your Recipes", I found these included "Smoky Mexican Baked Beans", "Refried Beans" and "Fruit Salad Platter". Clicking on the individual recipes redirected me to yummly.co.uk, where I could see the ingredients, method, number of portions, and nutrition information such as the number of calories and proportions of fat, fibre, protein, and so on.
Results Section: Your Genes
Next, I went to "Your Genes". Here, I could read more information about genetics, including what was meant by DNA, genes, genome and SNPs. There was also information about how DNA testing works, epigenetics (how genes can be switched on or off), and how I can overcome my genetics in order to live a healthier life.
There was a list of 12 different genes related to health and fitness. Clicking on each one, I could learn more about it, and how my variant of each gene might impact my health.
For some genes, such as the APOE gene (responsible for creating lipoproteins, which carry cholesterol through the bloodstream), the genetic variant I had neither benefited me nor decreased my health risks.
For other genes, such as the GSTM1 gene (linked to detoxification of compounds such as carcinogens, drugs and environmental toxins), my variant gave me a higher risk of developing certain cancers or chemical sensitivities, since I had a reduced capacity for detoxification.
Still, it wasn't all bad news. My copy of the SOD2 gene (associated with destroying free radicals, which can cause cell damage) had a beneficial impact, since I had the variant associated with good levels of antioxidant protection (shown below).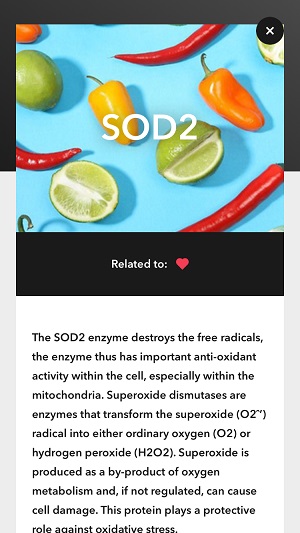 Results Section: Your Goals
I then went to "Your Goals". To start off with, I had been given five goals (shown below).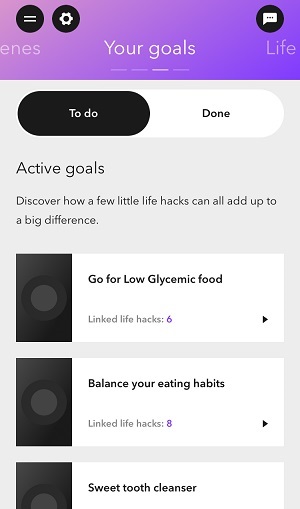 One of these was to "Go for Low Glycemic food", i.e., to eat slow-release carbohydrates that would gradually release glucose into my bloodstream, and thereby decrease my risk of developing diabetes or metabolic syndrome.
I was shown the genes associated with this goal, and my related "Life Hacks", which were to replace starch with legumes, and incorporate apple cider vinegar and apples and almonds into my diet.
Another of my goals was "Sweet tooth cleanser", which was to do with dulling my sweet tooth so that I would be less at risk of developing degenerative diseases associated with a higher BMI (shown below).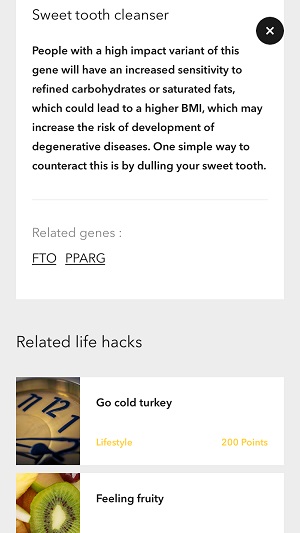 The related life hacks were to go "cold turkey" by cutting out sugar for a week, to substitute fruits for refined sugar, and only allowing myself sweet treats of less than 150 calories. This would help to prevent frustration arising from sugar cravings.
I thought completely cutting out sugar sounded pretty tough. Limiting the amount I eat seemed like a better place to start, since I would be less likely to get disheartened and relapse.
Other goals I had were to balance my eating habits, take alpha lipoic acid supplements (which could help to reduce my risk of developing diabetes), and to "Go Low Cal", which had the associated life hack of monitoring calories.
I was confused by GenSmart's supposition that I wanted to lose weight, and I realised that this hadn't actually formed part of their initial questionnaire. This surprised me, since although this sort of app is often aimed at people wishing to lose weight, I thought they should take into account that people might want to use the app for other purposes, like simply eating healthier.
Results Section: Life Hacks
In the "Life Hacks" section, I found a list of the life hacks I had been recommended in order to achieve my goals (shown below).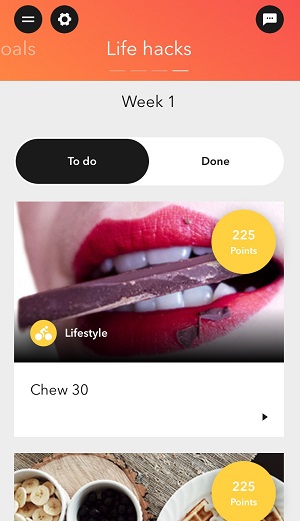 Clicking on each hack brought up more information about it, and which goal it was related to. I could also select "I've done this" in order to gain progress points and move towards my goals. Completing life hacks moved them from my "To do" list to my "Done" list. Completing one life hack unlocked another.
One of my life hacks was "Chew 30", which suggested I chew my food 30 times to ensure it was properly broken up. This would aid digestion, and help my body break down sugar and fat.
Another hack was "After 10, before 7". This suggested I should fast between 7pm and 10am in order to improve my metabolism, help me burn fat, reduce insulin resistance and lower blood sugar levels.
Results Section: My Account and Help
In the "Your account" section, I was able to change my password, manage notifications, log out or delete my account.
There was also a "Help" section, which included tips for using the app, and a live chat where I could request assistance.
Summary
The GenSmart app was straightforward and easy to use, and included plenty of content. The interwoven goals and life hacks provided an effective way for me to track my progress, and gave me manageable steps for achieving better health. Though it would have been nice to be able to opt out of certain goals or hacks that didn't suit me, for a free app it was very comprehensive, with a lot of thought put into making it simple and intuitive.