At a Glance
Summary
By taking OriginalGene's Comprehensive Genetic DNA Test I received much more in-depth information than I ever expected!
At first I could not decide which test would suit me best (the company provides a wide range of products – 180 reports grouped into 14 tests depending on what you are interested in) and I could not properly set my goals – do I want to lose weight or just improve my diet? Do I want to understand about possible predispositions to certain diseases? Do I want to know how caffeine and cigarettes influence my body? As I wanted to receive as much information about how my body functions, I found it reasonable to spend a bit more to answer all these questions. This is why I bought the Comprehensive Genetic DNA Test.
I was impressed by how accessible OriginalGene's reports are, and here I should mention that the report I received is not only a standard PDF file but you also receive access to your results by logging into a very user-friendly personalised platform. I was impressed by its interactivity and easy navigation.
Another thing I found quite useful was the "Research magnitude" and "Reference Cards" sections within the final report - these show how accurate the information is for the markers tested, based on the latest scientific studies. They also include insights into the genetic markers tested as well as references to the studies. I was confident I could take this information to my physician if needed.
I was surprised and impressed that OriginalGene commits to continuously updating its records and the information it provides, this speaks to their credibility.
Full Review
OriginalGene is a direct to consumer genetic testing company. Founded in 2017, their goal is to help people gain access to their genetic information and to understand what they can do with the cards they have been dealt.
They strive for awareness of genetic diseases, aim to allow individuals to take a more proactive role in their healthcare, and offer the means for people to learn about themselves.
OriginalGene currently offer 14 tests which cover 180 physical and psychological attributes, from revealing genetic predispositions to diseases, to understanding one's personality, to helping individuals lead healthier lifestyles by improving their diet or fitness regime.
Product Expectations
OriginalGene's website set my expectations and its friendly look and feel helped me navigate the information they presented. They provide brief explanations of each test, guide you through the ordering process, explain kit registration and prepare you for when you receive your results.
It was interesting and comforting to learn about OriginalGene's process from start to finish. Their "How it Works" and "Science Explained" sections provided insights on the methods they use and I was pretty impressed by how well the science was explained.
One of the advantages that stands out when testing with OriginalGene is that unlike other DNA testing providers, they do not work with any third party companies or collaborators. This means they won't share my results with other parties, only I'll have access to my data.
My favourite thing about OriginalGene is that they have a free support line and their staff are incredibly well trained. A staff member guided me through the whole process step by step, they helped me track my order and once I received the results, they helped me understand how to read the results to get the maximum benefit from the service.
Ordering Experience
The ordering process was quite simple and pretty straightforward. I added the test to the cart, entered my payment info and that was it. I was surprised that OriginalGene don't accept PayPal but I'm happy using a debit card.
Upon ordering I had to agree with their Terms and Conditions which is standard procedure. A few things that grabbed my attention:
Firstly, I noticed the price covers all shipping fees - this is great as I hate it when companies add extra fees to send kits to and from the lab. Secondly, I learned I had the option to give the test as a gift.
I read that the test can be used by anyone, but for minors, a parent or guardian must complete a consent form which was reassuring. I felt confident and secure that OriginalGene were taking their responsibilities seriously and their Privacy Policy reflected this.
Last but not least, I read that at any time I can withdraw my consent for OriginalGene to store my biological sample and genetic information, and if I do, my sample and information will be destroyed. I also learned that I can request access to my raw genetic data.
In terms of the service and the testing kit, the package I received included a saliva collection tube with easy to follow instructions, it took no more than 5 minutes to prepare my sample to send off.
I was also required to register my "kit" online which was a fun and interactive experience. It provided kit tracking and I could see what stage my sample had reached in the testing process.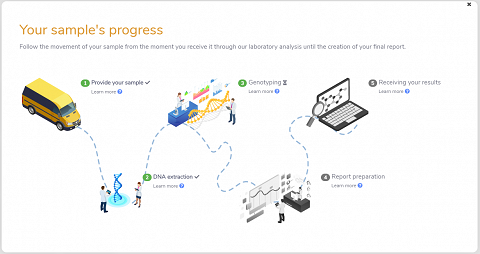 I returned my sample using the same box the testing kit came in, and I used the prepaid FedEx label to dispatch it to the lab.
The Results
On OriginalGene's website it said that the whole testing process, DNA extraction and report preparation may take up to 7 weeks but I received my results only 3 weeks after I sent back my sample!
I was quite pleasantly surprised to receive an email once my results were ready and uploaded to their online platform. I hate it when companies make me login and logout over and over to check for my results.
The email contained a link to the results dashboard within my personal account in the so called "Member's area".
The personalised platform ("Member's area") contained a page that displays all the tests that OriginalGene offer, and the one I bought was colored in green.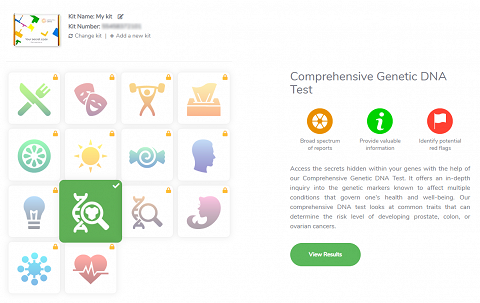 Once I clicked on it, it led me to another page that summarises the results for the particular test I chose.
The Comprehensive Genetic DNA test page displayed clickable links that gave me access to all of the 48 reports it includes.
On the right side of the page was a link that leads to a "How to read your report" page which was quite useful. I'd recommend anyone who purchases this test use this page to better make sense of their results.
Each condition was shown on an interactive human body which was quite fun to navigate. I also found it useful that the whole experience was visualised and the results weren't just a number of PDFs to read.
Of course, I was given the option to download the results in PDF format had I wanted to. As OriginalGene state that they are not providing the results for diagnostic purposes, and that our health is a combination genetic and environmental factors; they encourage their customers to print the results and discuss them with their physician.
Results Section: Comprehensive Genetic DNA Test / Carbohydrate metabolism.
As I mentioned, I wanted to receive as much in-depth information as possible so I chose the most comprehensive test that OriginalGene offer. This meant that I received a report for each of the 48 conditions they cover. Each report started with one of three general outcomes for the corresponding condition: Increased genetic risk, typical genetic risk, or decreased genetic risk. The reports do not give a simple "Yes" or "No" answer.
As shown in the picture below, this was the navigation menu for the Comprehensive test I took.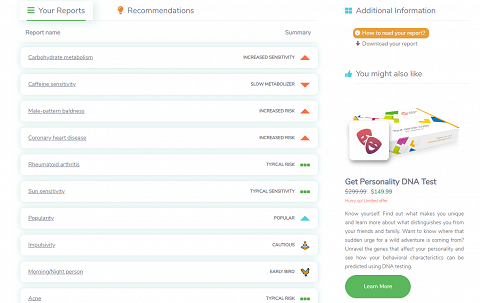 By clicking on each of the reports, I received structured information for the condition tested that was easy to understand.
Let's review the Carbohydrate metabolism report for example.
It contained a "Genotype" section that provided information about the tested markers that lead to my result.
The "Description" section provided more information about the condition itself.
On the right side is my personal result.
Below those are the "Research Magnitude" and "Reference Cards" sections which I mentioned previously. They show the credibility of the results you receive.
Results Section: Comprehensive Genetic DNA Test / Rheumatoid arthritis
Another report that's part of the Comprehensive test that I found to be useful is the one for rheumatoid arthritis.
The information is structured in the same way as the carbohydrate metabolism report as shown below: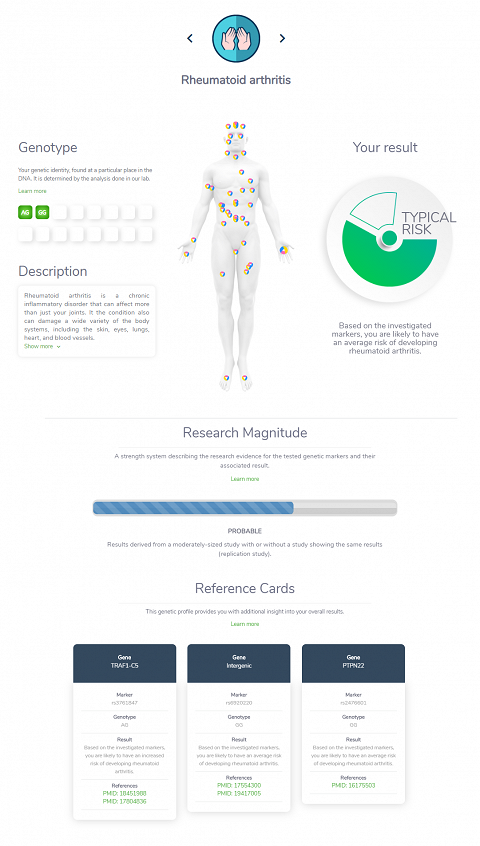 Results Section: Comprehensive Genetic DNA Test / Impulsivity
Apart from testing for serious conditions and diseases, OriginalGene can give you an insight into some pretty fun and cool stuff such as Impulsivity, another report included in the Comprehensive test.
You can see my results below: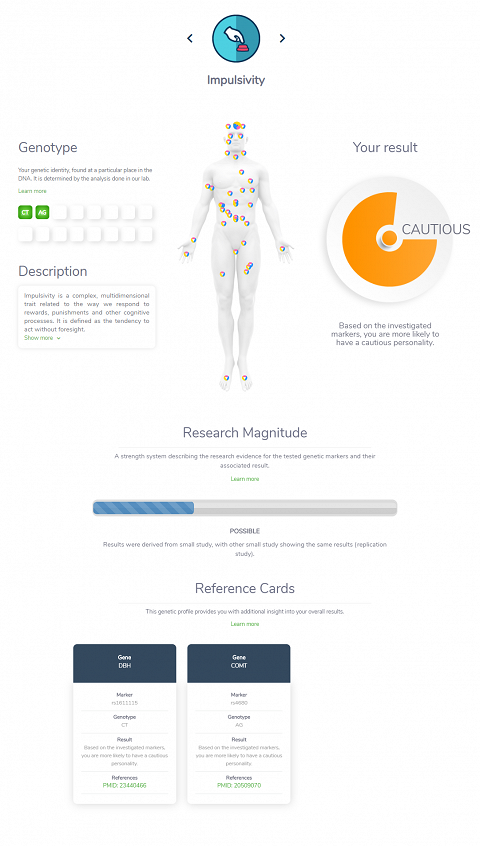 It looks like I'm genetically predisposed to be cautious person which is absolutely the case! Although I already knew this, it's still intriguing to see that my genes have contributed to this attribute.
Summary
I found OriginalGene's Comprehensive Genetic DNA test results interesting and incredibly useful. Despite the number of DNA tests I've taken, OriginalGene's gave me an insight into a number of increased risks for conditions that I wasn't aware of. I definitely intend to discuss these with my physician at my next check-up. As for the advice about my eating habits and exercise regimen, I can absolutely see how this will improve my lifestyle - whether I have the will power to follow through is another matter!
OriginalGene's support line and process tracking interface definitely make this provider stand out. Receiving updated reports when OriginalGene incorporate new information into their testing matrix is also an awesome bonus!
I liked that when I first called OriginalGene's support line, they offered to send me a sample report and talked me through it - this definitely filled me with confidence about their service and their expertise.
Overall my whole experience with OriginalGene has been nothing but pleasing – from the super easy ordering process to the wealth of accessible information I received. Their scientific references are clearly displayed and their commitment to confidentiality is a breath of fresh air.