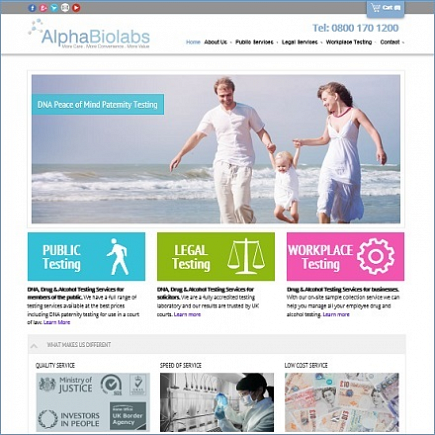 Alpha Biolabs launches new website after receiving 'mystery shopper' review
February saw the launch of Alpha Biolabs' new website after they received a mystery shopper review from DNA Testing Choice.
Warrington based Alpha Biolabs are well known for providing the DNA tests used by The Jeremy Kyle show. They specialise in relationship tests such as paternity testing for 'peace of mind' and legal purposes.
You might say this is a strange time to make such a significant change, as DNA Testing Choice had recently rated them number 1 in the UK for paternity testing. If it ain't broke, why fix it? But Alpha Biolabs pride themselves on listening to their customers and taking all reviews seriously, it's great to see they're pushing to be even better.
Richard Errington, Head of Online at Alpha Biolabs said "We'd been working on a new site and were able to take every good point from DNA Testing Choice's independent review of the market. We looked at feedback on our old site and our competitors' sites to make the improvements.
"The new site has loads of extra features like a solicitor's login area, a mobile optimised version, a support centre, and many more enhancements to make it more user friendly."
David Thomas, Managing Director at Alpha Biolabs said "I have to say that the industry has been waiting for a comparison website like DNA Testing Choice for years. It is inevitable that it will increase standards in the sector, as it has done for us. Well Done!"
Having looked at the new site, it's great to see a clean 'look and feel' combined with comprehensive guidance for those researching the DNA test that's right for them. In comparison to the vast majority of DNA testing websites out there, I'd say Alpha Biolabs definitely have an edge when it comes to helping its customers.