At a Glance
Summary
The Advanced Gut Health Test is well-named. It's a very deep dive into the health of your gut and a lot more than a microbiome test that just measures bacteria. I not only learned that the diversity of my gut bacteria was extremely low and that I have dysbiosis (an imbalance of the families of bacteria in my gut), but about the level of inflammation in my gut, whether I'm showing signs of IBD (Crohn's and Ulcerative Colitis), levels of pancreatic digestive power, the presence of parasites and much more. The professional advice was included in the price, as well as recommended supplements and a diet. As far as I'm aware, no other provider offers all these things together.
Perhaps the best thing about the test is that you don't need to go through a separate practitioner to get it (thus paying for at least two appointments on top of the test cost). Because Healthpath's in-house practitioners are gut health specialists, their advice is included in the price of this test. It's important to say that the advice you get comes from a human, not an algorithm. It would be easy to assume it's machine generated as you don't actually speak to anyone there (unless you choose to) but Healthpath are clear that every single test is analysed and interpreted by professionals. Their combined expertise and experience means that this test is one of the most comprehensive and insightful tests I've seen.
Healthpath has gone many extra miles beyond the gut tests that just give you laboratory readings which are often pretty scientific and hard to understand. It's all very well knowing that you have high levels of lactobacillus, for instance, but you need to know what that could mean for your health or how you can address it. Healthpath does exactly this, telling you what health conditions are associated with your results, and bases their supplement recommendations and a diet plan on that data.
The diet plan is explained and laid out beautifully, and comes with a lot of recipes too. Healthpath might be a bit more expensive than tests from other providers but the test itself is so comprehensive, and the advice you get back is priceless. Usually you would have to pay a practitioner to explain the test results and give you a plan of action, but Healthpath includes this in the price.
Healthpath's website is full of articles on the most common gut conditions, all referenced and backed by scientific research but written in plain English with clear steps on how to address symptoms and reveal the root cause of gut issues. It's clearly a company that won't say what it can't back up with evidence.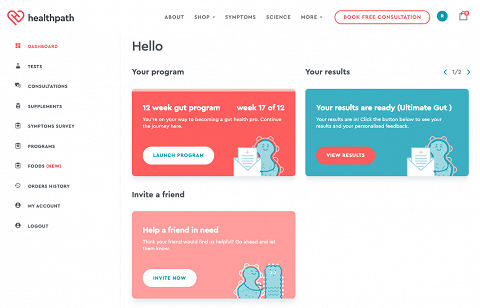 Full Review
Healthpath is a new company set up by founder Richard Nehme who struggled with his own gut health for years until he discovered functional medicine. Functional medicine looks at your whole body and mind to fight disease and searches for the root cause instead of just treating symptoms.
On their website you can read Richard's story. He regained his health and became determined to bring functional medicine to the masses to address the massive and growing problem of chronic disease, especially gut conditions.
Right now functional medicine is practiced only by private health professionals, making it expensive and hard to find. Healthpath makes it possible for anyone to take the tests that up until now, only private practitioners have provided. As mentioned before, the company is staffed by qualified functional medicine practitioners and registered nutritional therapists who put together your advice personally depending on your results.
I really liked Healthpath's mission and all the extras you get with the test, so I was excited to try it.
Ordering Experience
There's no search function on the website so you have to go to 'Shop' at the top menu to find the tests. If you're not sure what tests you need, you can complete a 'Symptom Survey' that takes about three minutes, and Healthpath will recommend some. They recommended the Advanced Gut Health Test for me based on my symptoms of 'constipation' and 'bloating'.
When you buy the test you're taken to the order page where you have the option to spread the cost over four months. You don't have to pay for shipping and the test kit gets to you in three working days. Because I've taken stool tests before I wasn't worried about what to do, but it's really quite simple for those who haven't, and the instructions are much more clear than other providers. Return to the lab is by freepost with the label they give you. You do have to go to a Post Office as you should get proof of postage.
I always want to know what labs and testing companies do with customers' data because I don't like the thought of my personal health information being used by some unscrupulous organisation. Healthpath states that customers' data is not used for any other purposes and belongs to them. They say they store all of it in compliance with industry standards and GDPR.
For the stool, the lab holds onto the stool for a short period of around a month just in case further tests need to happen. Then they throw it away.
The Results
They say results can take up to 15 working days but mine came back in under two weeks. This is quicker than other tests I've used. I got an email notification when they were ready and I could see them by logging on to the account I'd registered when I bought the kit.
The results are where Healthpath stands apart from the rest. My practitioner asked me to fill in a symptom survey to help him interpret my results, because looking at test results without any knowledge of the symptoms of the person taking the test can be misleading. This makes perfect sense and is a massive bonus!
The first page you see is the practitioner notes which give you the main findings. I could tell that a real person had looked at my test which immediately made me feel safe. Other tests often just give you the lab results or just a little automated interpretation for each section, but stool tests need to be looked at as a whole. Machines just can't do that very well yet.
You can then click 'next' to see a deeper overview. The rest of the report is divided into 'in range' and 'out of range', referring to the levels of microbes measured in your gut. So there are four pages in total, but for the last two pages you can turn 'show detailed description' on or off which is a brilliant addition. It means you can choose to read the description of that particular microbe and what science has told us so far about what it does, or you can just see the plain readings.
Page 1
A message from the practitioner giving you their professional opinion on the most important aspects of your results. They recommend supplements and why they might work for you based on your test results.
For instance, mine started:
- Good microbiome diversity
- Low levels of Akkermansia – a key bacteria which helps maintain a healthy gut lining
- High secretory IgA indicating a degree of immune activity; more information that perhaps the gut lining is sub-optimal in health
There's an option for further, personal support (longer than the free 15 minutes) with a practitioner, for a fee. This would be really useful for someone at the beginning of their gut health journey.
Page 2
This is your 'overview' of your results. You'll see info on your pH balance, your diversity score, your 'enterotype', your dysbiosis index and most importantly, what these things all mean in reality.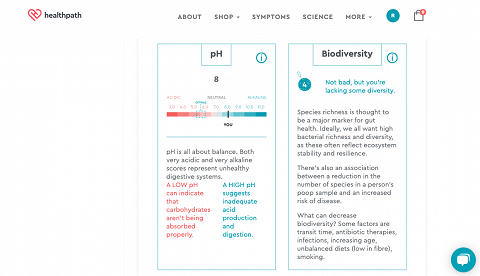 This picture is just one chunk of information on the overview page. You can see how Healthpath present everything in a very simple, approachable way which I think is really important with scientific data.
Page 3
Your 'in range' (healthy) levels of specific families of bacteria, yeasts, moulds, parasites and 'functional markers' which reveal levels of inflammation and digestive power. Lots of gut health testing companies only give you information about your levels of bacteria, which isn't very helpful and means you need to spend time doing a lot of your own research. Healthpath tests give you evidence of how well your digestion is actually working, and if it's not working well, they advise you how to fix it.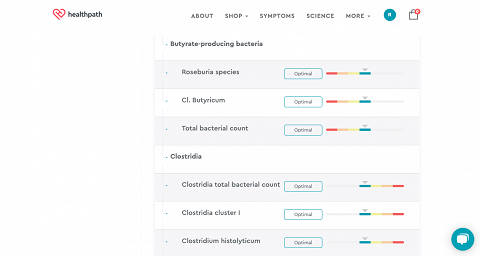 This is how Healthpath shows you the levels of bacteria in your gut. Here they break the families of bacteria down according to their function. You can see the butyrate producing bacteria all together. If you click the 'show more detail' button you get a simple explanation of what each family of bacteria does for your health.
You can also download the lab report, which might be useful for you if you're into science or if you'd just like to see the raw data.
Page 4
Your 'out of range' bacteria - the ones you have too many or too little of - are displayed in the same way as the 'in range' bacteria. I love how Healthpath gives you just the right amount of information here under 'show more detail'. They tell you what you need to know about each result and no more, in plain English. It means you can feel in control instead of overwhelmed by the science.
When you've clicked-through your results you get a page with your next steps. Best of all is the diet advice you'll need to follow for up to 8 weeks to address the root cause of your symptoms. You'll see this in a really easy to read format that's been beautifully and simply designed. It goes back to basics by telling you what you should and shouldn't be eating, and the portion sizes (by percentage of your plate/handful). It includes herbs, drinks, condiments and spices. You can choose a vegan, pescatarian or normal diet.
You get a 7-day meal plan with guidance on what to pre-prepare on Sundays to make weekday eating easier. I got six breakfast recipes, two lunch recipes and eight dinner recipes. They're all very easy to prepare for anyone who even just cooks simple things. You don't need any special equipment and all the ingredients were available in my local supermarket. You don't even need to make everything from scratch, for instance gluten-free bread is one breakfast suggestion. Other recipes include one-tray baked chicken and vegetables and a delicious cottage pie. To be honest it was a relief not having to decide what I was having for dinner every night or what to buy in the shops, they decide for you!
The most useful thing of all was the grocery list; a comprehensive list of the fresh, whole foods you need to buy and the precise amounts. This is more than I got when I saw a private nutritionist.
You'll also see the option to download your 'Fundamentals of Health' PDF that explains how your stress, sleep and activity levels affect the health of your gut, and you can click-through to your recommended supplements. These are chosen by a functional medicine practitioner or registered nutritional therapist, so they're targeted specifically to support your symptoms.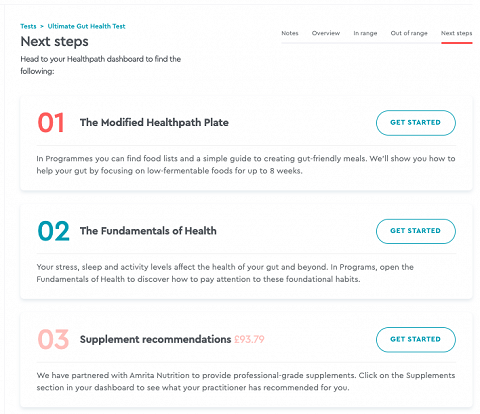 The doses were all explained; for example I was told to take one oregano oil capsule a day but work up to three times a day over the course of five to seven days (with food). I could also click-through to a fact sheet for each supplement that told me the precise ingredients and features, which if you're like me and have to know everything that's in something, is a big anxiety reducer!
You really get your money's worth with this test. It's Healthpath's mission to bring good gut health to the masses, and by enabling people to buy their own test and get professional analysis without having to go through an expensive independent practitioner, they're definitely accomplishing that. Because I completed a symptom survey, I got advice from one of their own Registered Nutritional Therapists based on my individual issues. The supplements and diet plan they recommended have made a big difference to my symptoms already.
I took up the excellent 12-week Gut Health Program for £30 a month that comes with loads of videos, more personal, professional advice, free extra recipes and a community forum.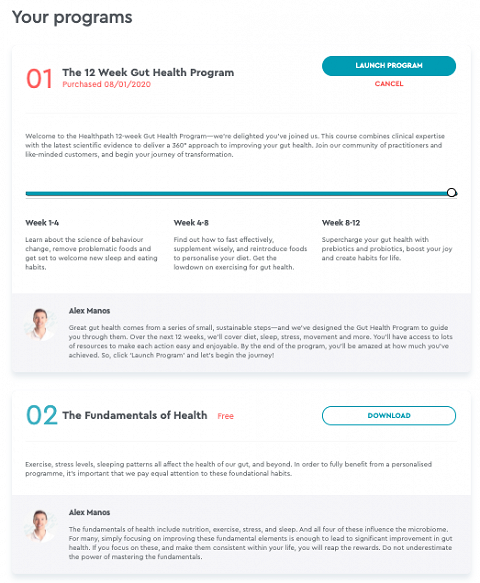 The information and practical advice in this program is exactly what you need to start changing your gut health for good. There are no quick fixes. Poor gut health is one of the root causes of chronic disease and Healthpath is tackling it head-on by opening up this much information to the general public at an affordable price.