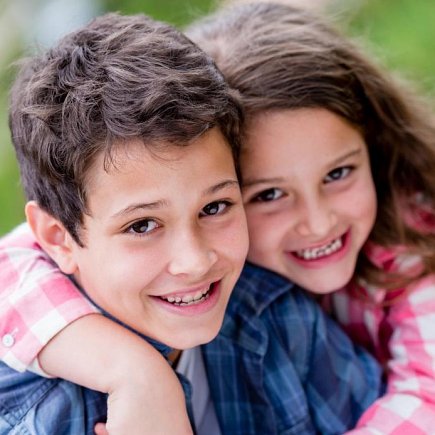 What is a sibling DNA test?
Sibling tests analyse and compare the DNA of two or more potential siblings to see if they share one, two or neither parents. There are therefore three main conclusions that can result from a sibling DNA test: Half-sibling, full-sibling or unrelated.
There are a number of reasons why a person might want to take a sibling test. Sometimes a person may doubt their own paternity or maternity, and neither their father nor mother is available for testing. Or perhaps someone wants to move to a country where their brother or sister lives, and they need to prove a biological relationship.
For those who are simply looking for reassurance about their relationship to their sibling, so-called 'peace of mind' sibling DNA tests are available online. However, if the result needs to be admissible in court, you'd need a 'legal' sibling test, and if you're taking the test for immigration purposes, a specialised 'sibling test for immigration' is required. It's worth noting that legal and immigration tests must be carried out by a government approved lab and often cost more than peace of mind tests.
If you're looking for a peace of mind or legal sibling DNA test, you can visit our sibling DNA testing page to read reviews and compare prices. If you're looking for a sibling test for the purposes of immigration, you may be better off checking out our immigration DNA testing listings.
How sibling
DNA

testing works

Taking the test
Once you've purchased the test online, both you and your alleged sibling will receive a testing kit in the post, along with any other family members who will participate in the process (discussed below). The kits will contain cheek swabs so that each of you can collect 'buccal' samples from the inside of your cheek. Collecting a sample in this way is painless and only takes a few minutes. The kits will also include containers for the used cheek swabs, which will prevent contamination when you return them to the lab.

In order to receive the most conclusive result possible, if you know that you definitely share one parent with your alleged sibling, providers recommend that you include this parent in the testing process. This will help the testing company to distinguish between the shared DNA from the known parent, and the DNA that you potentially share from the alleged parent.

Analysis of samples
We each have 20,000 to 30,000 pairs of genes. We inherit one set from our mother and one from our father, and each set is known as an allele. Within our genes, small repeating patterns of bases (the units that make up our genes) have arisen over thousands of years – the number of times that these patterns repeat is unique to each of us and to our close family. These repeating patterns are known as markers or Short Tandem Repeats (STRs), and by looking for them at certain locations in your DNA (known as loci), the number of repeats can be compared with those of your alleged sibling, indicating how likely it is that you're related.

Siblings usually share less DNA than parents and children do, as two different versions of each gene can be inherited from each parent. In some cases, two siblings will inherit the same gene, whereas in others, they will inherit different genes. This results in full siblings sharing about 50% of their overall DNA, meaning that about half of their markers will match exactly. However, this is just an average, and the percentage of DNA that two siblings share is different in each specific case. In theory, two siblings could share 0% or 100% of their DNA, though these extremes are highly unlikely in reality.
How conclusive are sibling
DNA

tests?

An important point to be aware of when taking a DNA sibling test is that they are less conclusive than paternity or maternity tests. This is because the amount of DNA that siblings share varies and can be quite a lot lower than that of a parent and child, so there will be fewer markers to match if the siblings are related. For this reason, DNA sibling tests can't be used to confirm or disprove that two people are full or half siblings with 100% certainty.

That said, most reports will come with an assessment of the conclusiveness of the results. For example, something called the 'Combined Relationship Index' (CRI) will give you a numeric value to indicate how conclusive the results are. The CRI isn't exclusive to sibling DNA testing, but is used for a range of genetic tests for different types of relationship. The thresholds change depending on the type of relationship, for example, paternity tests generally come out with one of two CRI values: 0.00, which excludes the possibility of paternity, and 100.00, which means the possibility of paternity is highly likely. For the reasons discussed above, sibling tests often produce intermediate CRIs so the results aren't as clear cut.
How to get the most conclusive results possible
The conclusiveness of results depends largely on the other members of your family that are available (and willing!) to be tested. As previously mentioned, if you are taking a DNA sibling test to determine whether you are half or full siblings, if you include a known shared parent in the testing process, this is an effective way of increasing the likelihood of receiving conclusive results.
If the known parent is not available for testing, some testing companies will allow you or your alleged siblings' biological aunts, uncles or grandparents to submit a sample to improve the conclusiveness of the results. If testing additional family members is of interest, it's worth asking the testing company which relatives they're prepared to test, and by how much they expect this to improve the accuracy of the result. The additional kits can then be sent out to the relevant test participants when you order.
Number of STR markers
One way in which you can maximise your chances of receiving conclusive sibling DNA test results, regardless of how many family members are tested, is to get as many STRs analysed as possible. The number tested ranges from 15 to 68, though not all companies provide information on how many they include in their analysis. The more that are included, the more information there is to base the conclusion on, and therefore the conclusion can be made with more certainty.
Y DNA tests
One way in which males can prove or disprove that they share a biological father is through Y DNA testing. This type of DNA takes its name from the Y chromosome, which is exclusive to males and passed directly from father to son. This means that a son will have the same Y DNA as his biological father, his grandfather, his great-grandfather and so on. Although natural changes in Y DNA do occur, they happen relatively rarely. The fact that males inherit a relatively unchanged copy of this chromosome from their fathers means that any full-brothers will share the same Y DNA, so this can be used to prove or disprove full siblingship.
Mitochondrial DNA tests
Unfortunately, females can't take Y DNA tests as females don't inherit Y chromosomes. However, if you're looking to prove or disprove that two siblings share a biological mother, their mitochondrial DNA (mtDNA) can be tested. mtDNA also remains largely unchanged across the generations, and because we each inherit our mtDNA from our mothers (regardless of whether we're male or female), the mtDNA from two alleged siblings can be analysed to determine if it's been passed to them by the same, or by two different biological mothers.
X DNA tests
Both males and females have X chromosomes. Females have two and males have one X chromosome and one Y chromosome. X DNA can be used in place of STR testing to establish whether two potential half-sisters have the same biological father, providing it is known that they do not share a biological mother.
X DNA can also be used if two potential full-sisters wish to know if they share the same biological father, and their biological mother is available for testing. In this circumstance, the provider can exclude the X DNA inherited from their biological mother and compare the X DNA inherited from each sister's father.
If two potential full-sisters share the same biological mother but she isn't available for testing, then the alleged paternal grandmother (the alleged father's biological mother) can participate in the testing process. As the alleged paternal grandmother will have passed her X DNA to her biological son, and he will have passed this on to his biological daughters; identifying whether both potential full-sisters share this X DNA with their alleged paternal grandmother can prove or disprove that they share a biological father.
As you can see, you can combine the types of DNA tested with the available relatives to set up the testing process in a way that delivers the most conclusive result. It's important to remember that these testing companies answer questions about sibling testing all the time, and they will be able to help you set up the best possible test. If you need a sibling DNA test, we advise that you call a few testing companies to explain your situation first, and they'll help you understand what your options are.
The cost of buying a
DNA

sibling test

DNA sibling tests range quite a lot in price, depending on the provider you choose, the number of markers included, and whether you purchase it for peace of mind or legal reasons. The price for the cheapest tests, which often analyse between 15 and 20 markers is around £100, whereas those that analyse the most markers cost up to £375. Make sure you check the number of markers tested when you're researching a test, as a higher price doesn't necessarily mean more markers.

If you are testing for legal rather than for your own personal reasons, you should expect to pay about £100-£150 more for the test. Note that there are often extra costs that aren't included in this price, such as hiring a health professional to witness the samples being taken and to certify your identification.

It's worth remembering that including known or alleged parents in the testing process often comes at no higher cost than testing just the potential siblings. This is because the additional participants cause the results to be easier to interpret and makes a conclusive result more likely. You will usually have to pay extra if you're testing three or four potential siblings as opposed to just two, but the inclusion of known or alleged parents can actually reduce the price!

If you want to save a bit of money, you may be tempted to order a 'free' testing kit, or one that allows you to take your samples without any specialised collection swabs. Although these options may appear to offer better value for money, they often end up costing as much, if not more than buying a kit with everything included. If you order a 'free' kit, you'll still have to pay for the analysis of your samples which is the most expensive aspect of the DNA testing process. Collecting your own samples without specialised swabs may appear to make the process cheaper and easier, but the risk of contaminating the samples is higher which will potentially make the results less reliable.
How long will it take to receive my results?
In general, sibling DNA test results are available quite quickly, under a week in most cases, but there are a few things to be aware of when working out how long you'll have to wait. The length of time will vary depending on the testing company you use, and most will tell you how long the test will take on their website. Unfortunately, the stated processing times don't usually account for the time it takes for you to receive the testing kit in the post, collect the samples, and send them back to their lab. These are important factors to consider if the testing company is located abroad, as this may add time to each stage of the process.
Once your samples have been received by the lab, you should expect to receive your results from one working day to two weeks later. Some companies offer 'express' testing, meaning you'll be able to receive your results the next or even on the same day that they receive your samples. This is useful for those who need results as soon as possible, but this choice often has a much higher price than the standard option.