Paternity Test review on 8 January 2014 by Craig Macpherson
At a Glance
Summary
Overall I felt that DNA Clinics provided the service as promised but every stage of process seemed more complex than it needed to be. I wasn't happy that my test appeared to have been undertaken by another company, and there was just too much information in the kit and results. I'm not sure I would use them again if I needed to test whether I was the biological father of a child
Full Review
There was a lot of information on the DNA Clinics site and it took several steps to reach the order page. The prices were listed with '+ VAT' alongside so I felt the site was geared more towards businesses than individuals. They clearly explained why testing the mother's DNA as part of the paternity test was important, but I ordered the 'One father-One child' test so this wasn't required.
Ordering Experience
The order process was simple but I was sent to a strange set of pages to insert my details which was a little off-putting. I was told there was nothing to pay up front and there were no extra fees on top of the advertised price. I received the kit two working days after I ordered it.
The kit came in an inconspicuous envelope marked 'private and confidential' – no one could have known what it was without opening it which was reassuring. It contained lots of information and forms to fill out – more than 15 pages which was a bit overwhelming.
I had to enter my credit card details on a form to be returned with the samples - this didn't feel very secure. An addressed envelope was included to return the samples but I had to pay for postage – I didn't receive confirmation that my samples had reached the lab.
The Results
I received the results four working days after I'd sent back the samples – this was one working day quicker than indicated on the website. The results were emailed to me in a PDF file which was five pages long. Although the first page talked about the laboratory's accreditations, the 2nd and 3rd pages (shown below) detailed the results, and these were from another company - Alpha Biolabs.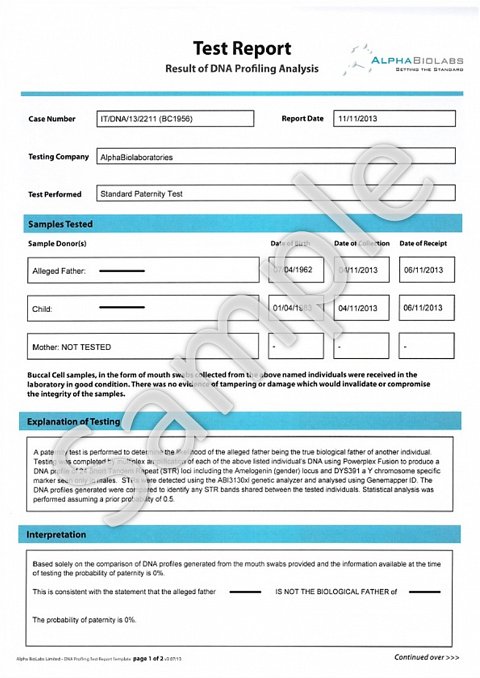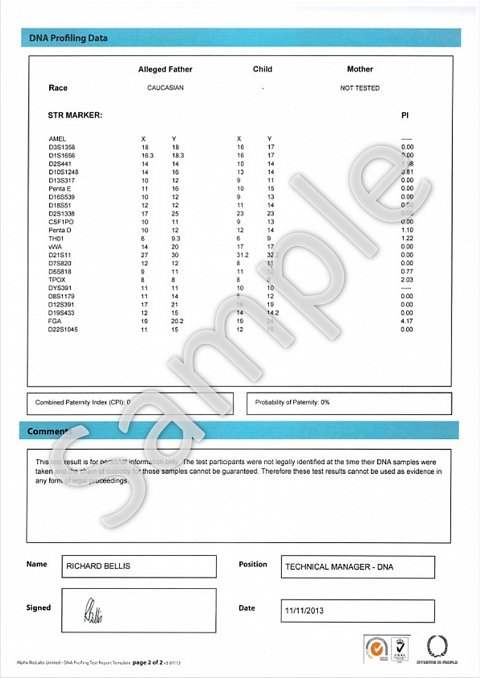 I was told that I was not the biological father of the child tested and the probability of my being the biological father was 0%. A table of 'STR' figures had been included in the results which I didn't understand, although there was an attempt to explain them.
Summary
Overall I felt that DNA Clinics provided the service as promised but every stage of process seemed more complex than it needed to be. I wasn't happy that my test appeared to have been undertaken by another company, and there was just too much information in the kit and results. I'm not sure I would use them again if I needed to test whether I was the biological father of a child
Visit DNA Clinics to learn more about this DNA testing service >