At a Glance
Summary
- Empower yourself with one of the only DNA tests worldwide that analyses 100% of your DNA. Genotyping (like 23andme) only gives you limited information based on a fraction of your DNA
- Start making conscious health decisions and take a proactive approach to your health. Dante's Personalised Genetic Reports give you insights into your genetic predispositions to common diseases and Well-being (Nutrition & Scientific Fitness Reports)
- Get access to your full genomic data, learn more as science progresses. Dante's Whole Genome Sequencing Test is one of the best lifetime investments: Sequence once, get actionable tools for life!
- Browsing your genome has never been so easy: Dante Labs gives you access to some of the most powerful tools to explore your full genome. Examine any gene of interest, access the reports you are interested in, download your genomic data
- Dante's Whole Genome Sequencing Test offers the highest possible precision and accuracy for the unbiased exploration of the human genome
Reports
- Health Report: The health report outlines your genetic risk of developing certain medical conditions or rare diseases throughout the course of your lifetime. Where genetic predispositions are detected, Dante's comprehensive management and treatment advice details ways in which you can proactively manage your health through your lifestyle choices
- Nutrition & Wellness Report: The nutrition and wellness report outlines your unique dietary profile, including which food groups you're most sensitive to and any nutrient deficiencies you possess. You'll also develop a greater understanding of your body composition, sleep characteristics and even particular personality traits. The results from your Whole Genome Sequencing Test will help to formulate a plan that optimises your exercise regime and diet in a way that leverages your genetic strengths, whether that be through strength training, aerobic exercise or HIIT. Learn what your body requires in order to perform at its peak while avoiding injuries and improving recovery time
- Rare Disease Report (available upon request): The rarity of diseases means a higher grade of complexity in diagnosis, research and pharma development. Clinical medicine can be revolutionised due to breakthrough innovations in sequencing technology and data analysis processes
How it works
- Fast Activation: Log in or create an account via Dante's Genome Manager and enter your Kit ID (you will find it on the box or tube)
- Painless Sampling: Contains an innovative at home blood collection kit. Send your sample back the same day you took it. Painless, quick at-home sample collection. CE-IVD marked and FDA approved user-friendly device
- Digital Results: You'll receive your results in a few weeks, available as a report within Dante's digital portal. The results are easy to read, you can even share them with your doctor
Genomic Consultation Service (available upon request)
Would you like to speak with a genetic specialist? Book an individual session. Dante's extensive network of geneticists will provide you with specialised genetic counselling on the topics that are most relevant to you such as diet and nutrition, fitness, injuries, and many more.
30X Whole Genome Sequencing (Clinical-grade Whole Genome Sequencing)
Dante Labs ensure the highest levels of accuracy through clinical-grade whole genome sequencing. By meeting clinical standards, healthcare professionals are able to confidently use your raw data results to determine a diagnosis or to establish an effective treatment plan.
What Does 30X Coverage Mean? Coverage refers to the number of times the sequencing machine sequences your genome. Each time your DNA is sequenced this is equivalent to 1X coverage, so 30X coverage means your genome is read on average 30 times. You may be wondering why so many repeats are necessary. Well, it's important to keep in mind that with 6 billion letters in your genome (A, T, C or G), even a 99.9% accurate sequencing machine would result in 600,000 potential errors. Every time the machine repeats the sequencing process, the margin of error decreases and the level of accuracy increases.
Whole Genome Sequencing Vs. Genotyping DNA Tests
Traditional consumer DNA tests only provide data on up to 2 million data points, compared to the complete 6 billion analysed in a whole genome sequencing test. While this is sufficient for a basic overview of your health, fitness and nutritional data, many important factors go amiss. A greater understanding of genetics has led to the realisation that the 98% of 'non-coding' DNA (once considered irrelevant), actually plays a hugely important role in regulating the coding portions of our DNA (the portions responsible for proteins in your body). This means that if you want a comprehensive and accurate analysis of your entire genome, complete with reporting on rare and hereditary diseases, a whole genome sequencing test is your only reliable option.
Privacy & Security
Dante Labs know that privacy is a fundamental human right and it's one of their core values:
- Dante strictly perform all their activity within the EU and the US
- Dante are fully compliant with the General Data Protection Regulation (GDPR)
- Dante's Sequencing Centres are located in the EU and the US
- Dante built their Cloud Database Infrastructure on Amazon Web Services (AWS) to guarantee you the highest level of security
- If you do not want Dante to keep your data (personal and genomic), they will delete your data. You can request a personal data cancellation at any time
At a Glance
Summary
I'm really glad I took the Dante Labs Whole Genome Sequencing test. As well as receiving my sequence in various formats, I appreciated the inclusion of a report that interpreted some of the data to provide me with information about my health.
I did feel that a bit more support could have been provided in terms of explaining the different aspects of the data and some of the more potentially distressing results in the report, but on the whole, was pleased to have a resource that I can continue to refer back to, as research progresses throughout my life
Full Review
Dante Labs are an international DNA testing company, with offices in both Italy and New York and lab partners across Europe, the US and Asia. At the company's launch in 2016, co-founder and CEO Andrea Riposati explained, "By leveraging only the world's best genetic technologies, we ensure that our customers have access to the best in the world of genetics". Using these technologies, their aim is to "make advanced genomic testing accessible to everyone". They went a way towards this goal by becoming the first company to offer whole genome sequencing to Europeans for less than €1000. In addition to its whole genome and whole exome sequencing services, the company offers a range of tests, reporting on health and wellness, cancer predispositions and prenatal conditions.
With its relatively low price, we were interested to learn how well Dante Lab's Whole Genome Sequencing test would compare to others in this area of the DNA testing market.
Product Expectations
A short description on the Dante Labs website explained that the test would provide me with my complete set of DNA, giving me access to information about my "health, family traits, life and more". This description was followed by five bullet points, detailing the key features of the test. Coverage was 30X, which, when compared to other sequencing services, seemed to be the 'industry standard' Dante Labs described it as. I also learnt that they would use Next Generation Sequencing (NGS) Technology to sequence my DNA.
99.7% SNP accuracy was advertised. Humans have around 10 million SNPs, which are the most common type of genetic variants that cause the differences between us. These are commonly used in various types of genetic testing, as certain SNPs, are associated with specific ethnicities, health issues, physical and mental characteristics.
In addition to this technical information, I learnt that I'd receive my raw data as gVCF and BAM files (more on these file types later). I knew that VCF and BAM files were commonly used in bioinformatics, but hadn't heard of gVCF files before. From a bit of my own research, I learnt that it stood for 'Genome Variant Call Format' and was a more advanced version of a VCF file, and was more compact than BAM files (around 1/100 of the size).
As well as the description of the service, there were several images of the kit and its contents. This was useful, as I could see that I would take the sample via a saliva collection tube. Further information surrounding these images revealed that as well as my raw data, I'd receive a report on my health and wellness and one that would allow me to explore my genome. Sample versions of both of these reports were provided, which I appreciated.
Ordering Experience
When I added the test to my cart, a note explained, "all orders will be processed in EUR at the most current exchange rate". I appreciated the fact that even though the payments were processed in Euros they were displayed in pounds sterling up until the payment page. On the payment page, I entered my email and delivery information and was happy to see that shipping was free. There were various payment options, including credit card, PayPal and BitPay.
I decided to look over the T&Cs and privacy policy, to check what I was signing up to before completing my order. I was pleased to see that Dante Labs wouldn't sell, rent or lease my individual-level information to third parties, but was slightly concerned to read that they could use it to develop research or commercial products which I would not be able to claim any compensation for or rights to.
I also read that I would be automatically alerted to external research opportunities but could turn these alerts off in my settings. I was also pleased to read that if they were unable to process my first sample, I would be sent a new kit free of charge and would receive a refund if the analysis failed a second time. Having read through these policies, I submitted my order and received an email confirming my purchase.
The kit arrived a few days later, and I was pleased to see that it looked exactly like the one on the website. The sample was easy to take and register. I sent it back to the lab using the DHL postage included in the kit. An email confirmed it had been received four days after I'd dispatched it.
The Results
The results took quite a lot longer than I'd expected: around 75 business days, rather than the 50 estimated on the website (which, including weekends, was about 15 weeks). When they were ready though, I received an email with login details and PDFs of my 'Wellness and Longevity' and 'Genome Explorer' reports.
Results Section: Raw Data
In terms of the raw data I received, I was able to access the VCF files via links in the results email, but was also able download them from my Dante Labs account. These files contained the genetic variants I carry, which are determined during the sequencing process when my DNA is compared to what's known as the 'reference sequence' (reference sequence GRCh37 in my case). After researching the reference sequence, I learnt that it is the latest universally agreed upon version of human DNA (reference sequence GRCh38 will be the next version). Although each human carries around 10 million genetic variants in total, not all of them have yet been researched, and so only 3,444,406 genetic variants were present in my VCF after the comparison was made.
I was also sent a USB flash drive containing an 8GB BAM file – a BAM file is a Binary Alignment Map and it contains all the nucleotides, or 'bases' as they're also known, in my DNA sequence. I knew that BAM files are only useful for advanced users, so I didn't try to use it in any way and I moved on to the reports.
Results Section: Genome Overview
My Genome Overview report was again quite technical. I downloaded it from my Dante Labs account dashboard (shown below), as a 3.6GB ZIP file that contained a PDF and .txt document.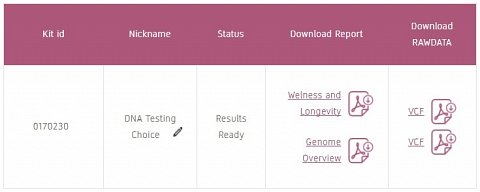 Opening the PDF report, I found that it consisted of 16 sections, which I could navigate via a hyperlinked list of contents. Although a lot of it was too complex for me to understand, the 'Codon Changes' table that showed how frequently specific changes in my genetic code were, was really visually interesting. A section of it is shown below.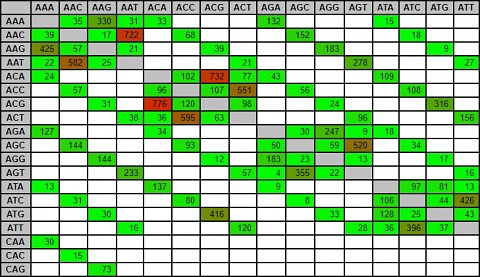 There was also a helpful 'How to read this table' section which provided instructions on how to interpret it. It explained that the row at the top represented codons in the reference sequence and that the column represented codons in my sequences that differed from the reference sequence.
I wasn't sure what codons were, but found out through Google that they are three bases of DNA that code for one amino acid. These amino acids form chains, which result in proteins, also known as the building blocks of the body. It was fascinating to see that, when looking at my whole sequence, there were some letters that seemed to change a lot more often than others. For example, a change from ACA (in the reference sequence) to ACG (in my sequence) happened a lot more frequently than from ATG to AAG.
The rest of the report and the text document didn't make any sense to me, so I moved on to the Wellness and Longevity report.
Results Section: Wellness and Longevity Report
My Wellness and Longevity report translated some of this complex data into results about my wellbeing. The front page of the report included my 'Confidential Report Number' and the date on which the analysis had been carried out. I was pleased to see that it was exactly the same format as the sample report I'd looked at before purchasing the test.
The first page was a welcome note from Sequencing.com. I was a bit confused by this, as I thought I'd bought the test from Dante Labs. I looked up Sequencing.com and found that the Wellness and Longevity report was actually one of many web apps offered by this company, that would normally cost $65 to report on genetic data. I appreciated the fact that Dante Labs had included this, rather than just using a free piece of software to interpret my data, and I considered the test even better value for money than I had previously.
A disclaimer that warned me not to take the recommendations in the report as medical advice was followed by a section that explained how to read my results. This explained that the conditions or traits included had been assigned an 'Overall Lifetime Risk'. It was made clear that having an increased risk didn't mean I did or would ever have the condition, just that I would be more likely than average to develop it. It also explained that being a carrier meant that I didn't have the condition myself, but could potentially pass it on to my children, if my partner was also a carrier.
Four gauges would be used to visually display each result's 'Risk' and 'Severity', 'Clinical Significance' and associated 'Actionabilities'. Beside each of the examples of these gauges there was an explanation of exactly what it showed. Each result would also include a description of the typical onset and symptoms, and would provide several genetically tailored prevention methods.
Considering this was the main report that actually interpreted my data, I was surprised to see that no information about any of the genes and variants the results were based on would be included.
Seven of my results were highlighted and discussed in detail. These included Athletic Performance, Melanoma, Arthritis, Osteoporosis, Malignant Hyperthermia, Heart Attack and Preventable Sudden Death. I was surprised that, considering I had my whole sequence, relatively few detailed results were provided.
I learnt that I was much more likely to excel in power than endurance-based athletic activities, was at a low risk of exercise-induced fatigue, muscle damage, malignant hyperthermia and sudden death due to heart arrhythmia. However, I had a moderate risk of melanoma osteoporosis and heart attack and an increased risk of arthritis. I found that although the gauges were useful in some cases, especially in terms of actionability and clinical significance, they often showed an overall risk that appeared lower than the explanation stated. One example was in my melanoma result (shown below).

As you can see, the overall risk for melanoma on the gauge appears lower than the label above it. That said, the Normal Lifetime Risk result was helpful in contextualising my result.
Each of the seven detailed results contained a 'Genetically Tailored Prevention' section. The prevention methods for conditions corresponding to each of the seven detailed results were split into seven sections: 'Monitoring', 'Medications', 'Lifestyle Modifications' 'Disease Interventions' 'Complementary Interventions', 'Common Misconceptions' and 'Family Planning', though a different selection of these was used for each detailed result. I found the prevention methods to be detailed and mostly easy to implement.
Results Section: Other Results
The rest of the results in the Sequencing.com Wellness and Longevity report were much simpler, provided in tables with two columns, 'Disease or Condition' and 'Your Risk Status'. There were 11 of these tables in total: 'Medications', 'Cancer', 'Heart and Blood Vessels', 'Child Development', 'Fertility', 'Digestive Tract & Liver', 'Blood', 'Neurology', 'Pulmonology', 'Infectious Disease' and 'Hearing'. There were 51 results in total, with most of the categories including between one and five, though Medications had 13 and there were 18 for Blood. A few of my Medications results are shown below.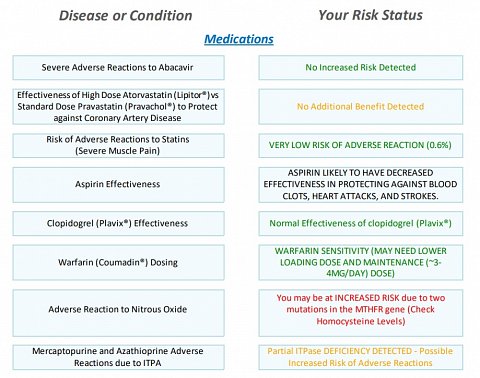 The colour coding made it easy to spot areas of concern, which was helpful. However, when I came across the Neurology section, I was worried to see that I was at an increased risk of a brain aneurysm. The fact that there wasn't any additional information about it made me worry even more as I didn't know much about brain aneurysms, apart from that they were usually unexpected and fatal. However, when I researched risk factors and causes of brain aneurysms, I was relieved to find that genetics wasn't mentioned and learnt that even having a family history of them didn't increase the risk much. I wished that this had been explained in the report, as it would have made me a lot less panicked when first reading the result.
Results Section: Your Genetic Testing Data
The final section of the Wellness and Longevity report provided results for individual genetic variants and was where having my whole genome sequence was definitely beneficial. It was 140 pages long, listing thousands of individual results. They were a little difficult to navigate, as there were no page numbers and the conditions weren't sorted in alphabetical order. However, I soon realised I could use the Ctrl+F shortcut to find specific results.
I was impressed with the thorough explanations of each column in the table, which included: 'Variant I.D.', 'Gene', 'No Risk', 'Risk', 'Your Genetic Makeup', 'Condition/Trait Assessed' and 'References'.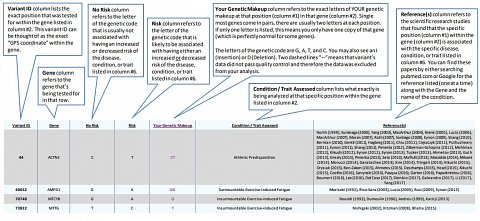 The use of speech bubbles to split up the information was effective and made it easy to go through the explanations section by section. They were straightforward, using everyday words rather than scientific jargon to describe what information each column would provide.
Summary
I'm really glad I took the Dante Labs Whole Genome Sequencing test. As well as receiving my sequence in various formats, I appreciated the inclusion of a report that interpreted some of the data to provide me with information about my health.
I did feel that a bit more support could have been provided in terms of explaining the different types of the data and some of the more potentially distressing results in the report, but on the whole, was pleased to have a resource that I can continue to refer back to, as research progresses throughout my life
Please note that we were invited to take this test free of charge.