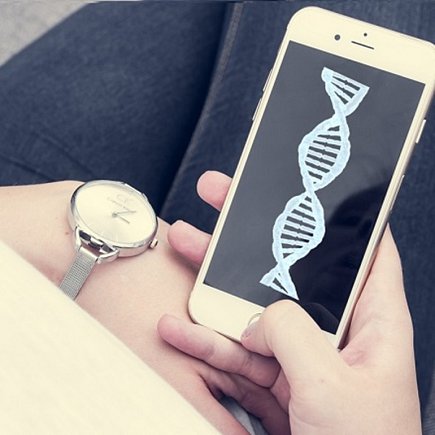 Is Helix the DNA testing company of tomorrow?
Helix, set up by co-founders Justin Kao, Scott Burke and James Lu in 2015, aims to become 'the app store of genetics' with the imminent launch of its debut service. The company is backed by several high profile investors, namely Illumina and Warburg Pincus, investing more than $100 million to develop the service. Its partners, which include Mayo Clinic and Duke University, also add influential support to the company, making it a pretty exciting new addition to the market.
The service itself has impressive ambitions. Customers will be offered the opportunity to have their DNA analysed and stored, all by Helix. Whilst these services are already offered by several other companies such as 23andMe and AncestryDNA, Helix stands out from the crowd by offering customers the chance to use a pay-as-you-go ecosystem. This would allow individuals to buy several different genetic analysis applications, from a wide range of partner companies, all by using one home DNA test.
Who are they?
Co-founders Justin Kao, Scott Burke and James Lu launched their company in April 2015, and have since added over 80 people to their team. This includes, amongst others, scientists, engineers, and entrepreneurs, all working to prepare the service that they hope will meet the highest possible standard, ready for its launch this year. They aim to build up an ecosystem of third party companies to further expand on this core team, once the platform is up and running.
The company is headed up by CEO, Robin Thurston. Robin has a background in the sports brand 'Under Armour', where he worked as part of the team that developed 'MapMyFitness', an app that tracks your athletic progress. Having spent 10 years as chief digital officer for the project, he is in the perfect position to advise on the app store model that Helix is aiming to replicate for genetics, and has the experience to help this venture stand out from its competitors.
Another pivotal player in the development of the company is its partner and investor, Illumina. As a leader in the development of next-generation sequencing, which has reduced the time and cost required to analyse DNA, Illumina is a valuable asset. In addition to a revenue of $2.2 billion (2015), the company already has experience of DNA apps, with its range of 'BaseSquare' apps, which are aimed at helping researchers optimise the use of Illumina equipment. But this also won't be the first time it has been involved in developing an app that's designed to introduce the general public to DNA testing… The 'MyGenome' app, which allows users to analyse information from a pre-loaded genome, or their own, was launched in 2012. However, Helix will be the first time that Illumina, or any major DNA sequencing company we're aware of, will be involved in building a platform on which to list and sell these apps.
As well as the genetic tech experience that Illumina offers, it's likely that, as such close partners, Helix's laboratories will be provided (possibly exclusively) with the latest DNA sequencing equipment and specialists. This will again give them an edge over most current competitors, who often use Illumina products for their labs, but are unlikely have access to the most recent ones as quickly or as cheaply as Helix.
Mayo Clinic, which was ranked the number one clinic in the world by the U.S. News & World Report, also supports the venture, as a partner and investor. This is with the intention of working to initially develop apps that aid in customer education and queries, such as the pros, cons and implications of DNA testing. The scientific aspects of Helix are also supported by a Scientific Advisory Board, which is made up of seven members, all with PhD or MD qualifications, and set up to advise on issues such as bioinformatics, medical genetics and ethics. Other partners include: Duke University, which is interested in the development of educational apps and programs, for both students and the general public; and Good Start Genetics, a consumer genetics start-up, who will aim to deliver apps that help prospective parents better understand reproductive health. These make up the founding companies of the Helix partner ecosystem, but many more are expected to join following the launch of their platform.
What are they offering?
Helix are offering a new kind of product, one that combines most of the services currently offered by existing companies in the consumer genetics market. Helix will enable customers to 'sequence once, query often', and according to the website, the company will receive DNA samples from those who sign up, which will be tested in what they claim will be the 'world's most advanced genetics lab'. With Illumina's latest technology to hand, this is easy to believe.
Rather than testing someone's complete genome, it's understood that Helix will use a chip array to analyse the exome at low cost. It's thought that around 600,000 SNPs (aka genetic variants) will be reported on, and according to their website, these have the potential to give customers information and advice on their health, lifestyle, genealogy, nutrition, fitness and family. The fact that there are estimated to be 10 million SNPs in the human genome puts in perspective how much more there is to discover, but also how important even small proportions of our DNA are. Helix aren't alone in analysing such a small proportion of SNPs, 23andMe and AncestryDNA take a similar approach. This is mainly because there isn't enough research yet to know with any certainty what the rest of these SNPs are responsible for, with many not thought to have any effect on health or wellbeing.
How will it work?
Helix know that to start with, customers won't be aware of their brand and the services they provide. Therefore, they're planning to sell their low-cost exome analysis to the third-party companies who'll make up their ecosystem of verified partners. These companies will then resell these analyses to their customer base. It's understood that each exome analysis will cost Helix around $200 to produce, but they'll subsidise this for their partners, charging them only around $100 per analysis. Effectively, the consumer genetics companies selected by Helix will be reselling their subsidised exome analyses, in return for participating (and encouraging their customer base to participate) in the Helix ecosystem.
As a customer, you may therefore order a DNA test from a company offering genetically tailored nutrition advice, but you may actually receive the Helix sample collection kit. After returning your sample, your DNA will be analysed and you'll receive the nutrition advice you paid for, however, Helix will be the company that actually stores your data. This will allow them to suggest other companies that could sell you a service using the same analysis. This pay-as-you-go system is what makes Helix different.
Helix have asserted that customer data will be kept securely in a cloud-based storage system with the 'highest privacy standards'. Right now, customers show little interest in the security of their genetic data, with few believing it to have a value. This is evident as most mainstream consumer DNA companies require you to sign away the right to any advances made using your genetic data when you buy their test, allowing them to sell your data (and sometimes your biological sample) to medical researchers and pharmaceutical companies. It's unclear whether Helix will sell customer data in this way, but given the trend that an increasing number of individuals are waking up to what's being done with their data, it's hoped that Helix won't pursue this particular revenue stream.
What's the cost?
A big part of the company's message is about creating personalised genomics, with every person being able to use their DNA to live life to the fullest. However, this may not mean each person gets unrestricted access to their genetic data. It is expected that Helix will charge customers to download the raw data produced by their analysis, potentially $500-$800 per customer. This might cause a problem for the company… From a legal perspective, many countries allow individuals to get a copy of the data held about them by private companies for free. Although nominal processing fees for retrieving this information are commonplace, it is unlikely that Helix could get away with a $500 fee.
In addition, even if the law doesn't prohibit Helix from giving individuals access to their own genetic information, there's an ethical question about ownership and rights, which may become a sticking point for some customers and potential partners. It isn't yet clear whether customers will have to pay for their genetic data to be stored with Helix, or if they'll need to pay for access to the Helix 'app store'. If they do, it'll most likely be a subscription-based service instead of a one-off payment.
Impact on the market as a whole
On a more positive note, the 'app store' model has the potential to significantly stimulate the consumer genetics market, resulting in more affordable and accessible services for customers. This model will also promote the different uses of genetic data, as although there are relatively mainstream markets for ancestry and paternity DNA tests, new types of DNA test are being launched all the time, and many currently struggle to reach high levels of public awareness.
It also seems that Helix are keen to replicate the Apple model in terms of how they generate revenue. They have previously stated the intention to act in a similar way to how the 'App Store' works, in the sense that they will take a cut from each service that a customer uses.
In addition, the first company that resells a Helix analysis will receive a cut of the profits made from each subsequent analysis, encouraging their partners to sell more Helix analyses to their customer base. It should be noted that Helix will be offering both a discounted genetic analysis, and will pay to promote their partners' services. For their model to be effective, it's likely that only data from Helix's analyses will be allowed into their ecosystem, leaving many customers who've already purchased DNA tests out in the cold.
It could be argued that excluding non-Helix data from the marketplace will narrow the market and reduce customer choice, instead of achieving the opposite. Many companies already offer an analysis of previously acquired genetic data, and current trends suggest that more of these companies will emerge. Should these companies focus solely on the Helix marketplace, this could result in slowed market growth and allow Helix to dominate.
Why now?
Helix has been a long time in development and it's not surprising given how many moving parts there are to their model. It's worth noting that Illumina does not have a relationship with consumers, and taking into account the growing size of the sequencing market, it's understandable that Illumina wouldn't want Helix to move forward until the proposition is 100% ready. Launching an unstable platform could negatively impact Illumina's reputation which they'd be highly anxious to avoid.
As previously mentioned, Helix are entering the market at a bit of a tipping point. Only time will tell whether DNA testing will become a mainstream tool for the range of applications it currently and potentially offers. At the moment, home DNA tests are gaining public awareness, and the number and range of tests, tools and consumer genetics companies increases every year. As this is happening, people are starting to explore more than just the one test, and companies are becoming aware that customers don't want to submit a biological sample for analysis every time. Helix has the potential to address both of these aspects of the market, providing a centralised platform from which a customer can find any tool they need, using just one service to send their biological samples to. They are not necessarily filling a gap in the market, but a crack that could either turn out to be just that, or which opens up into a canyon of opportunity. A lot of what they are aiming to do relies on home DNA testing becoming a major market, which is a risk. But equally, if this becomes a reality, and the risk pays off, then they very well could become the Apple of the consumer genetics industry.