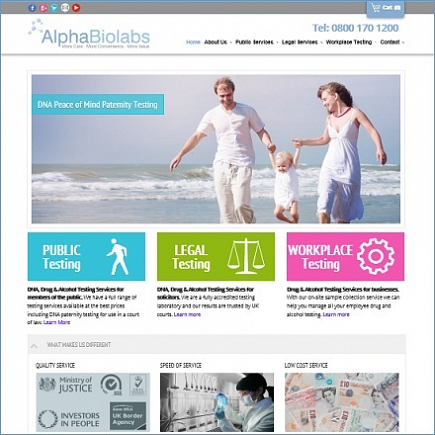 Provider Profile: Alpha Biolabs
Overview
Alpha Biolabs is a leading UKAS accredited genetic testing provider in the UK, offering a broad range of DNA testing services to consumers and organisations. Committed to innovation, Alpha Biolabs has been instrumental in shaping the UK's genetic testing industry for over a decade.
Provider Background
In August 2004, Alpha Biolabs was launched to provide 'peace of mind' and legally approved genetic testing services. Their main laboratory is based in Northwest England, with offices in Warrington, Uxbridge, London and Belfast.
Alpha Biolabs were the first DNA testing provider to establish a network of nurses that offer sample collections, and set up walk-in centres in London and Liverpool to make their services more accessible. Alpha Biolabs first offered accredited DNA testing to the legal sector in 2013, and were endorsed in the same year for incorporating 24 markers into their genetic analysis, making theirs the most accurate DNA test available at that time.
Alpha Biolabs hold an 'Investors in People' accreditation and utilise the latest technologies to ensure their DNA testing results are accurate and reliable. They are also the exclusive provider of DNA testing services to the Jeremy Kyle show on ITV.
The tests themselves
Alpha Biolabs provide a broad range of genetic tests. These include 'peace of mind' paternity tests with the option to pick up the results the following day, and legally approved paternity tests that are accepted by legal bodies and law courts. A national network of sample collectors are available to visit customers at their homes, and manage the paternity testing process from start to finish.
Alpha Biolabs provide many other types of 'peace of mind' relationship testing such as maternity testing, sibling testing, avuncular testing and grandparent testing. They also provide a wide range of legal services such as DNA testing for immigration, and workplace services such as drug and alcohol testing. Alpha Biolabs even provide drug and awareness training courses to help employers manage their drug and alcohol policies.
Genetic ancestry testing has recently been added to their portfolio of DNA testing services, and Alpha Biolabs now offer the AncestryByDNA™ test. This provides a customer with the migratory paths that their paternal and maternal ancestors took thousands of years ago, as well as giving them a breakdown of their recent genetic ancestral mix.
Summary
With an established reputation for 'peace of mind' and legal genetic testing services, Alpha Biolabs is well known in the industry for its professionalism and commitment to customer service. From our experience of reviewing Alpha Biolab's paternity test, it's clear that this provider is one of the most sensitive and responsible in the UK, and we hope they plan to add more types of DNA test to their portfolio to raise standards across the board.
To read independent reviews of Alpha Biolabs' paternity test, including our Editor's review, click here.