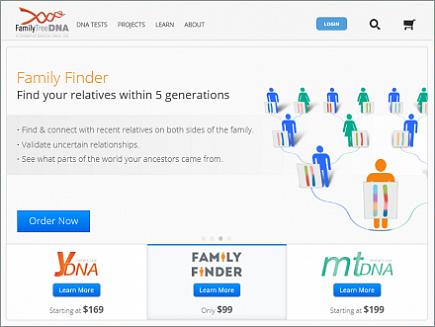 Provider Profile: Family Tree DNA
Overview
Family Tree DNA specialise in DNA testing to report on genetic ancestry. They support a large online community for those who wish to discuss their results, find their living relatives, or participate in genetic ancestry projects. Family Tree DNA are owned by the Houston-based company, Gene by Gene Ltd.
Provider Background
Family Tree DNA was founded in 2000 by the genealogist Bennett Greenspan. The first tests they offered were for Y chromosome STR (Short Tandem Repeat) testing, and mitochondrial DNA testing. Today they operate the largest genetic ancestry database in the world with more than 670,000 records in their database.
In 2005, National Geographic selected Family tree DNA to conduct DNA testing for their Genographic Project. Advocacy of their DNA testing services by such a strong brand was a real coup, and helped Family Tree DNA attract a range of new partners.
In 2006, Family Tree DNA opened the Genomics Research Center in Houston after buying assets from paternity testing company, DNA-Fingerprint. This allowed them to offer more advanced DNA testing and significantly grow their customer base.
Family Tree DNA are known for employing a large number of highly trained genetic experts, constantly improving and refining the DNA testing they conduct. Team members include the PhD geneticist Michael Hammer, the PhD population geneticist Bruce Walsh, and the explorer-in-residence at National Geographic, Spencer Wells.
As well as selling tests direct to consumers in the US, Family Tree DNA have fostered a large number of partnerships in Europe, conducting DNA testing on behalf of 'The Genealogist', iGENEA, DNA Worldwide, and more.
The tests themselves
Family Tree DNA offer a range of genetic ancestry tests which include: 'Family Finder' tests, 'Father's Line' Y-DNA tests, and 'Mother's Line' mtDNA tests. It is also possible to buy multiple tests at a discount.
Family Finder tests leverage Family Tree

DNA

's database to help customers find their distant relatives according to their autosomal

DNA

. It will also reveal the extent to which different ethnicities make up that customer's

DNA

.
 
Father's Line tests help customers trace their living relatives according to shared paternal ancestors. Reports show the migratory path taken by those paternal ancestors, and help uncover 340,000 years of their male lineage.
 
Mother's Line tests help customers trace their living relatives according to shared maternal ancestors. Reports show the migratory path taken by those maternal ancestors, and help uncover 180,000 years of their female lineage.
 
Family Tree DNA also allow customers to submit autosomal data produced by other providers – e.g. 23andMe, AncestryDNA – to assist with their search for living relatives.
Summary
Family Tree DNA are one of the biggest names in genetic ancestry testing. The size of their database, the sophistication of their tests, and their engagement with the community makes them a favourite amongst genetic genealogy experts. From our experience of reviewing Family Tree DNA tests, the results can be a bit daunting for the beginner, but the online interface provides all the support required if the customer is prepared to search for it.
The fact that so many providers have chosen to re-sell Family Tree DNA's genetic ancestry tests is a testament to their offering, and we look forward to seeing their tests advance in the coming years.
To read independent reviews of the genetic ancestry tests you can buy from Family Tree

DNA

, including our Editor's review, click here.