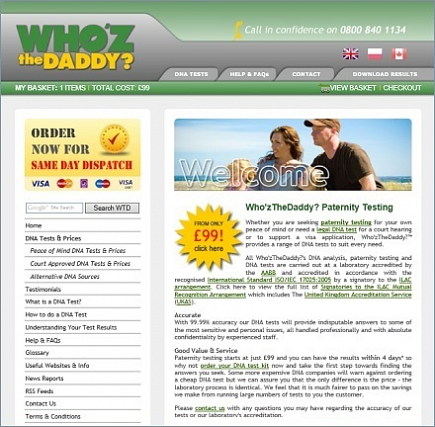 Provider Profile: Who'z the Daddy
Overview
Who'z the Daddy? are a Brighton-based provider of DNA testing services, best known for their competitive pricing. They do not conduct the analysis of genetic material in-house, but outsource the actual testing component to the US-based provider, Genetic Testing Laboratories.
Provider Background
Who'z the Daddy were incorporated in 2011 and offer DNA testing in the UK, Poland and Canada. They've developed out-sourcing relationships with a number of laboratories around the world, to ensure they can deliver the lowest-priced DNA tests to their customers. Genetic Testing Laboratories – their main partner laboratory – are compliant with ISO/IEC 17025:2005, and are accredited with the American Association of Blood Banks (AABB).
The company was founded on the Department of Health's guidelines for paternity testing (which has now been superseded by the Human Genetics Commission's 'Framework of Principles'), and is one of the few DNA testing providers that offers a 24 hour customer support service.
Who'z the Daddy's customer-centric website boasts the most comprehensive DNA testing FAQ section of its kind, with dozens of references to charities, advice services and government organisations, all of which can offer support should their customers need it. Although many DNA testing providers recommend their customers seek support, Who'z the Daddy is one of the few that actually publishes helpful references.
The tests themselves
Who'z the Daddy offer several types of paternity test, including both 'peace of mind' and legal tests. They'll even accept alternative sources of DNA such as hair, nails and clothing should a 'discreet' paternity test be required.
DNA testing for other types of relationship is available, such as maternity and siblingship, and for aunt, uncle and grandparent relationships. Who'z the Daddy also offer DNA tests to prove or disprove a relationship with an absent individual, as well as DNA profiling and banking services.
All tests can be conducted at home and the testing kits are dispatched in confidential envelopes. Cheek swabs are provided as a painless method of DNA collection.
Summary
Who'z the Daddy are well known in the paternity testing industry, partly because their brand is more light-hearted than most. It's refreshing to see their out-sourcing relationships discussed on their website, especially when most of the providers that out-source tend to omit this.
Who'z the Daddy are definitely one of the lowest-priced DNA testing providers in the UK, and from our experience of reviewing their paternity test, their service is fast and efficient to boot. That said, consumers should watch out for hidden fees at the checkout.
To read independent reviews of Who'z the Daddy's paternity test, including our Editor's review, click here.