At a Glance
Full Review
BIOMESIGHT is an AI-driven wellness analytics platform with a primary focus on the gut microbiome as a leading indicator of wellness. They offer a gut microbiome test, along with an easy to follow interpretation and personalised food and prebiotic recommendations. Users can upload raw data obtained from tests conducted with previous providers. uBiome, Psomagen and Thryve are the currently supported labs but they are working on support for others.
They also offer services to research projects, allowing them to bulk upload results from their studies and offer their study participants access to their results on their website.
Ordering Experience
The ordering experience was a breeze. I selected the number of kits I wanted to purchase and could check out with PayPal, Amazon Pay and other leading payment providers.
Postage as well as return postage was free. The packaged sample can be dropped into any Royal Mail post box.
The kit is very well presented and can be given as a gift. Sampling and return instructions are clear and easy to follow. The collection kit consists of a swab and collection tube with preservation buffer.
When registering the kit, I had to agree to their terms and conditions which covered the usage of my data. One thing to note is that the ordering of the kit is separate from the kit registration and kits are not tracked against orders, so users can remain anonymous. Only an email address is required to register on their platform. Data is not shared with 3rd parties. They state that data is used by their own researchers and findings related to the data, along with aggregated data sets may be published by researchers. No personal data or individual records will be published.
Biological samples are destroyed a couple of weeks after laboratory processing.
The Results
I received an email when they received my sample and a couple of weeks later I received a further email to inform me that my results are ready. Results are viewed online. Raw FASTQ and CSV data is downloadable.
Results are displayed in a dashboard with an overall gut wellness score. The score is a summary of 4 sections: Diversity, probiotics, commensals and pathogens.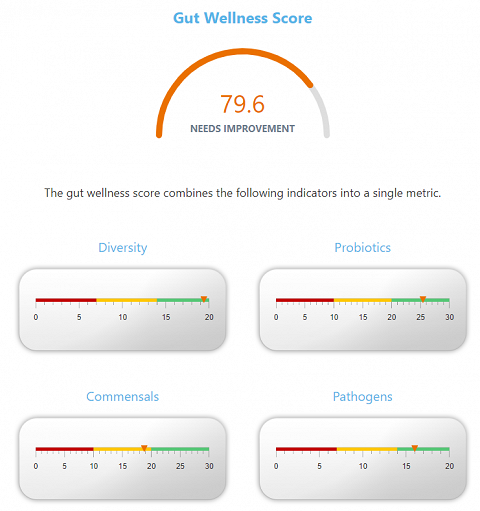 Selecting a particular gauge leads to a sub-report, with detailed metrics, for example, in the probiotics section, all the probiotics as per Dr Jason Hawrelak's ranges are listed and it's easy to see how I compare to the 'ideal' ranges. Reading the fine print relating to these sections, Biomesight is using Dr Hawrelak's ranges as a starting point but they intend to keep revising these as the research in the field progresses.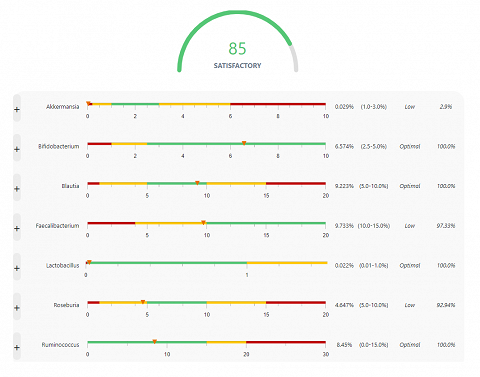 Expanding each bacteria listing provides a detailed description of the bacteria as well as food and prebiotic recommendations for increasing or decreasing the particular bacteria.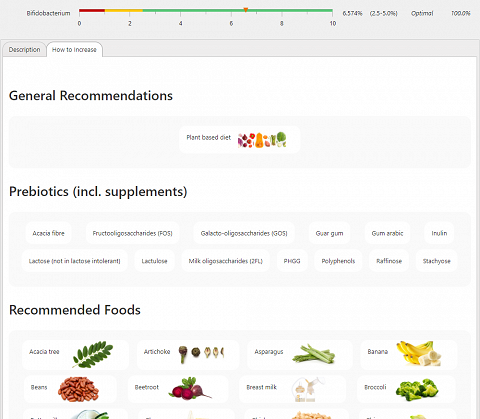 The prebiotic recommendations consist of some that are easier to find than others, e.g. GOS can be found in the widely sold Bimuno on Amazon but some (e.g. 2'-FL which I decided to try as well to raise my Bifidobacteria even more) I had to order directly from a supplier outside the UK.
The food recommendations mostly consist of foods that are easy to find in local shops, but it was clear that I didn't have to try all the food recommendations to realise the benefits.
Advanced Results
As someone who's taken many gut microbiome tests and used many platforms, this is my favourite section because I can compare my results over time.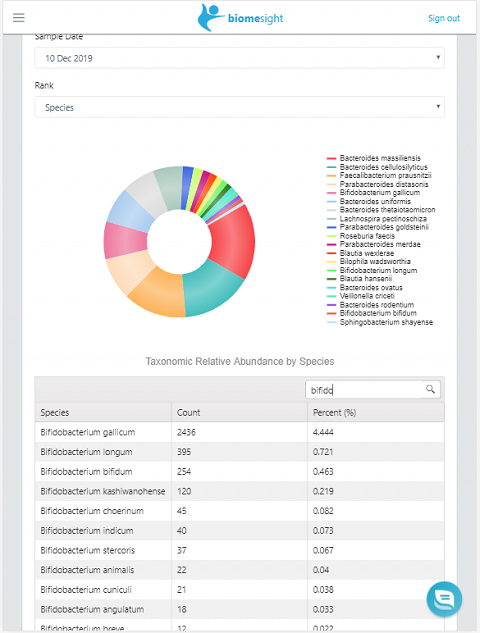 I was impressed by the timeline which allows you to filter by microbe - I haven't seen this on any other platforms. This is particularly useful when comparing results over time, and can even take into account the data you upload from other microbiome testing providers.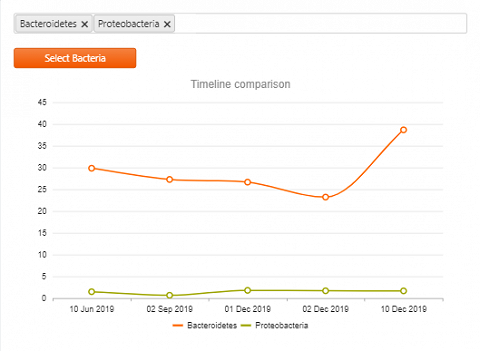 Summary
Overall, the Biomesight microbiome test gets a strong recommendation from me. A lot of other platforms hide the raw data and provide just recommendations which I cannot validate with my own research. I am fascinated by the gut microbiome and its importance for our general wellbeing. I like that I can get a quick overview of my gut health and see easy to follow recommendations. It's also a great service for someone who wants to do their own research and use Biomesight's tools for analysis. I know these advanced tools won't appeal to everyone, but Biomesight have a significant offering for the citizen scientists out there.
Furthermore, they regularly have promotional offers which makes regular follow-up testing more affordable. Biomesight make it clear that follow-up testing is not essential but is useful for those with overgrowths or deficiencies to address.